In order to provide our patients with the highest quality dental care, your first visit will be with Dr. Kitzmiller who will coordinate your care. You deserve the best our Apex, NC office has to offer and we believe a comprehensive dental exam is imperative for good oral health. Our receptionist will answer patient information type questions about treatment costs, insurance and oral surgery, cosmetic, or dental hygiene appointments. Follow-up dental hygiene or treatment appointments will be scheduled for you after your initial visit.
5 Steps for Best Dental Care
Reception
Our staff will answer your paperwork Questions
Reception:
Our staff will answer your paperwork questions
Discussion
Our Dental Team listens to your Desires & Concerns
Discussion:
Our Dental Team listens to your desires & concerns
X-rays
Dental Team Performs X-ray diagnostics
X-Rays:
Dental team performs X-ray diagnostics
Exam
Dr. J. Kitzmiller performs Oral Health Inspection / Exam
Exam:
Dr. J. Kitzmiller performs oral health inspection / exam
Care Plan
Together we create A Care Plan
Care Plan:
Together we create a care plan
Adults and children may receive the following procedures:
Medical and dental history evaluation
Comprehensive dental examination
Blood pressure evaluation
Digital bitewing X-rays (reduces radiation)
Digital Panorex, panoramic X-ray
"DIAGNOdent" laser readings of your teeth*
Intraoral photographs
Oral cancer screening
Periodontal probing
Comprehensive treatment plan
Discussion of treatment options
Review of financial and office policies
*DIAGNOdent® is a small laser instrument called used to scan your teeth with harmless laser light to search for hidden decay. Learn more in the brochure below.
Other Benefits
Infection control, sterilization & extra cleaning measures.
Chair-side computer monitors help us educate patients.
Laser-assisted tools help us identify cavities very early.
Careful consideration for appointment comfort.
We are child-friendly and believe early dental experiences should be positive.
Comfortable, clean & safe waiting room with coffee, books, magazines, TV and secure wi-fi.
Welcome to our practice!
Thank you for choosing us.
We are convenient to Apex, Cary, Holly Springs, Morrisville, Raleigh and surrounding North Carolina areas.
We look forward to meeting you at your first visit at our convenient Williams Street / Hwy. 55 Apex location.
Dentistry has always been greatly invested in infection control procedures and sterilization. We continue to employ the most up-to-date procedures at Apex Dental Group to stay safe. Read about infection control methods that are considered standard procedures, used by dental practices in the United States, in this article by the American Dental Association (ADA):
https://success.ada.org/en/practice-management/dental-practice-success/dps-infection-control-2020
As you know, we will always continue employ the most up-to-date infection control procedures and our record proves that this works well! You can rest reassured the infection control and standard precautions recommended by the CDC and OSHA are excellent deterrents to COVID-19, the flu and every other virus.
In addition to the routine steps we take, we are being even more vigilant with infection control in all the areas in the office. Surfaces in the reception area, front desk area, consultation area and restroom(s), which would normally be cleaned and disinfected daily, are now being disinfected throughout the day. Hand sanitizer is readily available in all areas of the practice for your use if you forget yours.
Keeping you comfortable during your treatment is one of our top priorities at Apex Dental Group in Apex, NC.
Nitrous Oxide – Laughing Gas
"Laughing gas" (nitrous oxide) administration is an effective way to relax mildly anxious children and adults.
You breathe in the gas through a mask.
It relaxes you during the procedure.
The effects of nitrous oxide are gone within minutes.
Most patients do well with nitrous oxide.
Learn more about
nitrous oxide on the Healthy Mouth website
by the American Dental Association.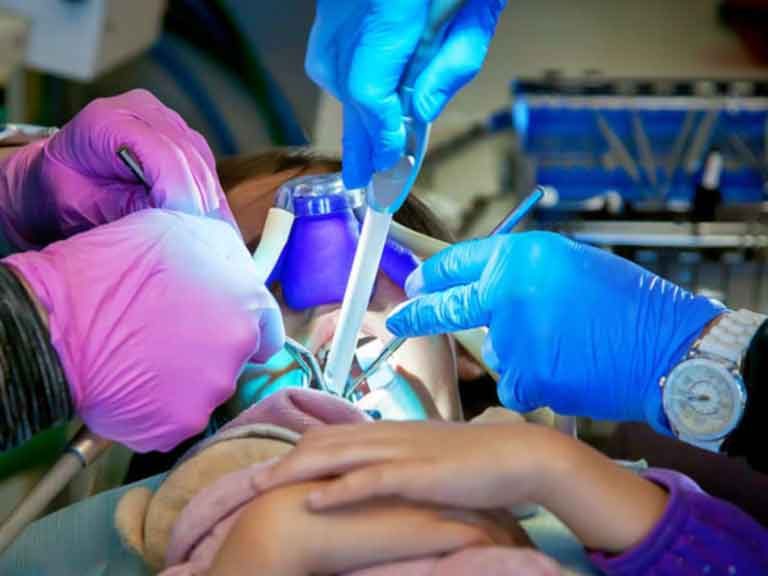 The Comfort Control Syringe
This is a computer controlled anesthetic delivery system to electronically control the numbing for a procedure in our office.
The device dispenses anesthetic in a slower, more controlled manner which drastically decreases the discomfort with injections. It also applies a drop of anesthetic prior to injection to numb the insertion site.
We routinely use this device for children and adults pain control.
Headsets
Music acts as a distraction during the procedure, which may make your experience more pleasurable.
We have clean, disinfected headsets for your use.
Bring your own headset & music if you prefer.
Listen to music that you love!
Blankets
Some like it hot, some like it cold. A freshly washed blanket will be provided to you upon request.
Neck Pillow
Laying down for any procedure without neck support can be painful. Please ask for a neck pillow with a freshly washed pillow case will be provided if you need one.
In our reception area
Free Wi-Fi in our office—our receptionist can provide the password to you.
HIPAA / Privacy Policy
The Privacy of Your Health Information is Important to Us
Notice Of Privacy Practices
(as of 6-30-14)
THIS NOTICE DESCRIBES HOW HEALTH INFORMATION ABOUT YOU MAY BE USED AND
DISCLOSED AND HOW YOU CAN GET ACCESS TO THIS INFORMATION. PLEASE REVIEW IT CAREFULLY.
We are required by law to maintain the privacy of protected health information, to provide individuals with notice of our legal duties and privacy practices with respect to protected health information, and to notify affected individuals following a breach of unsecured protected health information. We must follow the privacy practices that are described in this Notice while it is in effect. This Notice takes effect 23 September 2013, and will remain in effect until we replace it.
We reserve the right to change our privacy practices and the terms of this Notice at any time, provided such changes are permitted by applicable law, and to make new Notice provisions effective for all protected health information that we maintain. When we make a significant change in our privacy practices, we will change this Notice and post the new Notice clearly and prominently at our practice location, and we will provide copies of the new Notice upon request.
You may request a copy of our Notice at any time. For more information about our privacy practices, or for additional copies of this Notice, please contact us using the information listed at the end of this Notice.
---
HOW WE MAY USE AND DISCLOSE HEALTH INFORMATION ABOUT YOU
We may use and disclose your health information for different purposes, including treatment, payment, and health care operations. For each of these categories, we have provided a description and an example. Some information, such as HIV-related information, genetic information, alcohol and/or substance abuse records, and mental health records may be entitled to special confidentiality protections under applicable state or federal law. We will abide by these special protections as they pertain to applicable cases involving these types of records.
Treatment. We may use and disclose your health information for your treatment. For example, we may disclose your health information to a specialist providing treatment to you.
Payment. We may use and disclose your health information to obtain reimbursement for the treatment and services you receive from us or another entity involved with your care. Payment activities include billing, collections, claims management, and determinations of eligibility and coverage to obtain payment from you, an insurance company, or another third party. For example, we may send claims to your dental health plan containing certain health information.
Healthcare Operations. We may use and disclose your health information in connection with our healthcare operations. For example, healthcare operations include quality assessment and improvement activities, conducting training programs, and licensing activities.
Individuals Involved in Your Care or Payment for Your Care. We may disclose your health information to your family or friends or any other individual identified by you when they are involved in your care or in the payment for your care. Additionally, we may disclose information about you to a patient representative. If a person has the authority by law to make health care decisions for you, we will treat that patient representative the same way we would treat you with respect to your health information.
Disaster Relief. We may use or disclose your health information to assist in disaster relief efforts.
Required by Law. We may use or disclose your health information when we are required to do so by law.
Public Health Activities. We may disclose your health information for public health activities, including disclosures to:
Prevent or control disease, injury or disability;
Report child abuse or neglect;
Report reactions to medications or problems with products or devices;
Notify a person of a recall, repair, or replacement of products or devices;
Notify a person who may have been exposed to a disease or condition; or
Notify the appropriate government authority if we believe a patient has been the victim of abuse, neglect, or domestic violence.
National Security. We may disclose to military authorities the health information of Armed Forces personnel under certain circumstances. We may disclose to authorized federal officials health information required for lawful intelligence, counterintelligence, and other national security activities. We may disclose to correctional institution or law enforcement official having lawful custody the protected health information of an inmate or patient.
Secretary of HHS. We will disclose your health information to the Secretary of the U.S. Department of Health and Human Services when required to investigate or determine compliance with HIPAA.
Worker's Compensation. We may disclose your PHI to the extent authorized by and to the extent necessary to comply with laws relating to worker's compensation or other similar programs established by law.
Law Enforcement. We may disclose your PHI for law enforcement purposes as permitted by HIPAA, as required by law, or in response to a subpoena or court order.
Health Oversight Activities. We may disclose your PHI to an oversight agency for activities authorized by law. These oversight activities include audits, investigations, inspections, and credentialing, as necessary for licensure and for the government to monitor the health care system, government programs, and compliance with civil rights laws.
Judicial and Administrative Proceedings. If you are involved in a lawsuit or a dispute, we may disclose your PHI in response to a court or administrative order. We may also disclose health information about you in response to a subpoena, discovery request, or other lawful process instituted by someone else involved in the dispute, but only if efforts have been made, either by the requesting party or us, to tell you about the request or to obtain an order protecting the information requested.
Research. We may disclose your PHI to researchers when their research has been approved by an institutional review board or privacy board that has reviewed the research proposal and established protocols to ensure the privacy of your information.
Coroners, Medical Examiners, and Funeral Directors. We may release your PHI to a coroner or medical examiner. This may be necessary, for example, to identify a deceased person or determine the cause of death. We may also disclose PHI to funeral directors consistent with applicable law to enable them to carry out their duties.
Fundraising. We may contact you to provide you with information about our sponsored activities, including fundraising programs, as permitted by applicable law. If you do not wish to receive such information from us, you may opt out of receiving the communications.
Other Uses and Disclosures of PHI
Your authorization is required, with a few exceptions, for disclosure of psychotherapy notes, use or disclosure of PHI for marketing, and for the sale of PHI. We will also obtain your written authorization before using or disclosing your PHI for purposes other than those provided for in this Notice (or as otherwise permitted or required by law). You may revoke an authorization in writing at any time. Upon receipt of the written revocation, we will stop using or disclosing your PHI, except to the extent that we have already taken action in reliance on the authorization.
Your Health Information Rights
Access. You have the right to look at or get copies of your health information, with limited exceptions. You must make the request in writing. You may obtain a form to request access by using the contact information listed at the end of this Notice. You may also request access by sending us a letter to the address at the end of this Notice. If you request information that we maintain on paper, we may provide photocopies. If you request information that we maintain electronically, you have the right to an electronic copy. We will use the form and format you request if readily producible. We will charge you a reasonable cost-based fee for the cost of supplies and labor of copying, and for postage if you want copies mailed to you. Contact us using the information listed at the end of this Notice for an explanation of our fee structure.
If you are denied a request for access, you have the right to have the denial reviewed in accordance with the requirements of applicable law.
Disclosure Accounting. With the exception of certain disclosures, you have the right to receive an accounting of disclosures of your health information in accordance with applicable laws and regulations. To request an accounting of disclosures of your health information, you must submit your request in writing to the Privacy Official. If you request this accounting more than once in a 12-month period, we may charge you a reasonable, cost-based fee for responding to the additional requests.
Right to Request a Restriction. You have the right to request additional restrictions on our use or disclosure of your PHI by submitting a written request to the Privacy Official. Your written request must include (1) what information you want to limit, (2) whether you want to limit our use, disclosure or both, and (3) to whom you want the limits to apply. We are not required to agree to your request except in the case where the disclosure is to a health plan for purposes of carrying out payment or health care operations, and the information pertains solely to a health care item or service for which you, or a person on your behalf (other than the health plan), has paid our practice in full.
Alternative Communication. You have the right to request that we communicate with you about your health information by alternative means or at alternative locations. You must make your request in writing. Your request must specify the alternative means or location, and provide satisfactory explanation of how payments will be handled under the alternative means or location you request. We will accommodate all reasonable requests. However, if we are unable to contact you using the ways or locations you have requested we may contact you using the information we have.
Amendment. You have the right to request that we amend your health information. Your request must be in writing, and it must explain why the information should be amended. We may deny your request under certain circumstances. If we agree to your request, we will amend your record(s) and notify you of such. If we deny your request for an amendment, we will provide you with a written explanation of why we denied it and explain your rights.
Right to Notification of a Breach. You will receive notifications of breaches of your unsecured protected health information as required by law.
Electronic Notice. You may receive a paper copy of this Notice upon request, even if you have agreed to receive this Notice electronically on our Web site or by electronic mail (e-mail).
Questions and Complaints
If you want more information about our privacy practices or have questions or concerns, please contact us.
If you are concerned that we may have violated your privacy rights, or if you disagree with a decision we made about access to your health information or in response to a request you made to amend or restrict the use or disclosure of your health information or to have us communicate with you by alternative means or at alternative locations, you may complain to us using the contact information listed at the end of this Notice. You also may submit a written complaint to the U.S. Department of Health and Human Services. We will provide you with the address to file your complaint with the U.S. Department of Health and Human Services upon request.
We support your right to the privacy of your health information. We will not retaliate in any way if you choose to file a complaint with us or with the U.S. Department of Health and Human Services.
Our Privacy Official:
Dr John S Kitzmiller III, DDS
Telephone: 919-362-1341
Fax: 919-362-9656
Address:
1021 West Williams Street, Suite 101
Apex, NC 27502
E-mail:
DrKitz@ApexDentalGroup.com or admin@ApexDentalGroup.com
Contact Officer:
North Carolina DHHS/HIPAA Office
Telephone: (919) 855-3171
Fax: (919) 733-8871
E-mail: DHHS.HIPAA.Questions@ncmail.net
Mailing Address:
HIPAA Office
2015 Mail Service Center
Raleigh, NC 27699-2015
Physical Address:
HIPAA Office
695 Palmer Drive
Raleigh, NC 27603-2250
Reproduction of this material by dentists and their staff is permitted. Any other use, duplication or distribution by any other party requires the prior written approval of the American Dental Association. This material is educational only, does not constitute legal advice, and covers only federal, not state, law. Changes in applicable laws or regulations may require revision. Dentists should contact their personal attorneys for legal advice pertaining to HIPAA compliance, the HITECH Act, and the U.S. Department of Health and Human Services rules and regulations.
Do I need to be at my child's appointment?
The best care that we can give to your child is when you are present!
We will discuss your child's dental health needs and develop a plan with your for your child, therefore your presence is important during the appointment and required for the first appointment.
During any wait time, we have free secure Wi-Fi is available at our office.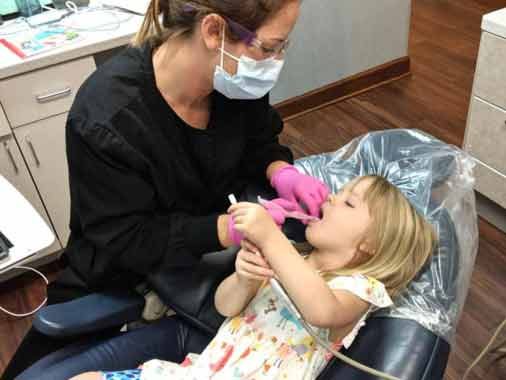 What is involved in Consent?
We require that the parent or legal guardian be present for your child's first visit. For future visits, we may be able to treat your child without you present with proper consent forms.

Medical History / Updates: Your child's medical history must be completed prior to the appointment.
Parental Consent: This form must be signed by the parent or legal guardian prior to leaving the child at our office. If the form is not filled out properly, the child may not be treated.
Emergency: In the event of a medical  or dental emergency, you are giving us the legal authority to direct your child's emergency care.
Review: Consents are approved on a case-by-case basis.
Download our Parental Consent PDF form (see Forms & Documents section above) and return it to our office.
The best method to keep a great looking smile and optimal dental health is daily maintenance but the unexpected can happen. Unfortunately, those unexpected things may not fit into the budget.
We offer the most flexible payment options in support of your financial needs. Our front office administrators will be happy to design a financial plan that best meets your lifestyle and investment in your dental health.
Your Appointment Time & Cancellation Policy
Your appointment time has been especially reserved for you! The dentist, assistant and front team have set aside time specific to your treatment needs. If you must change or cancel a reserved appointment:
our office requires three (3) business days advance notice, for any reason, for all changes and cancellations.
Failure to do so will result in a (non-refundable) $50 broken appointment fee as stated in our financial policy.
If your Appointment is on:
Monday – Must notify on previous Wednesday
Tuesday – Must notify on previous Thursday
Wednesday – Must notify on previous Friday
Thursday – Must notify on previous Monday
Friday – Must notify on previous Tuesday
If a pattern of short-notice cancellations occurs, we reserve the option of requiring advance payment before you make appointments.
Our doctor's and hygienist's time plus preparation of an operatory room are reserved especially for you.
As courtesy, we will call or email you one (1) week in advance of your reserved time. For your hygiene appointments, we will send out a postcard reminder three (3) weeks in advance. However, you are responsible for the appointment you schedule.
Cancellation Policy in PDF

It is our intention to provide the highest quality dental care in an atmosphere of mutual comfort and understanding.
Insurance
We accept payment from your insurance carrier and ask that you pay your estimated portion at the time of your appointment.
We are happy to file your dental insurance for you.
You can help us by familiarizing yourself with the limitations of your insurance policy as benefits vary.
Payment Options
Call us for more information on our financing plan thorough Wells Fargo Financing.
Check
Cash
Credit Card
Assignment of Insurance
FSA & HSA Benefit Account Cards
Wells Fargo Financing
Pay-in-Full and Pre-Pay Discounts
Payment in Full Discount / Pre-Pay Discount

Apex Dental Group offers a 5% discount for treatment paid in full at time of service or pre-paid monthly by check or cash if arranged with office administrator ahead of treatment.

Our office will gladly provide you with the necessary forms and supporting documents to submit to your insurance company for reimbursement.
We will gladly accept assignment of benefits as partial payment for each visit.
There is no discount for services that we file with your insurance company.
Save 5% and more by saving interest charges from credit providers
IMPORTANT:
Payment arrangements MUST be made with office administrators prior to the start of treatment.
Pay-in-full at time of service with cash or check.
Example: Dental Restoration $1,000 5% discount = $50 Crown is $950 using cash or check No Bank / Credit Card Fees!
Pre-pay in monthly payments with cash or check prior to your appointment.
Example: Dental Restoration $1,000 4 monthly payments (before treatment begins) of $200 = $800 using cash or check 5% discount = $50.00 1 final payment at time of service of $150 using cash or check Crown is $950 using cash or check No Bank / Credit Card Fees!
---
Your Savings:
Save 5% with us
+ Save 9% to 18% by not paying the bank / credit card fees
= A potential savings of 14% to 23% or more!
Would you rather pay the bank or yourself?
---
Interest Rate / Savings Chart on your Dental Restoration Example
Credit Card Calculator

No dental insurance or losing your dental insurance?
Paying too much for insurance?
Retired and need dental care?
Want to save money on your dental health treatment?
Join our patient membership program to receive benefits and discounts with no need for insurance!
Become a VIP Member & Join Today!
Patient-focused dentistry you can trust!
Accepting New Patients • Contact Us Today!